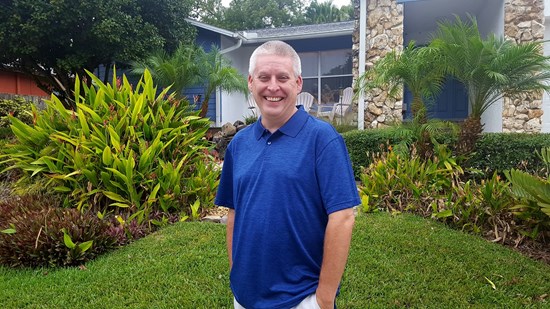 I love this job ... and I hope that it shows
In March, I was fortunate enough to earn your trust and was elected a Safety Harbor City Commissioner. Since the very next day, I've put everything I have into this, and I've never had a job I've loved more.
I love hearing from you, whether it's on my Commissioner Scott Long Facebook page, or at Sunday's Market on Main, or when you stop to ask me a question when you see me and my wife, Laura, at one of our city's fantastic restaurants, bars or shops.
I love stopping in City Hall to talk with our amazing city staff, trying to better understand the challenges they face as we search for solutions to the issues you bring us.
I love working alongside you at our city events and non-profit functions, whether it's painting houses, picking up trash, filling sandbags, reading to children at our fantastic library or simply raising money for causes we care about.
I love all of these things, because I love Safety Harbor.
Below are just a few of the ways I've served this city this past year. On March 13, I'd be honored if you let me keep serving you and Safety Harbor.
Your neighbor,
Scott
City events/responsibilities
Served as city's official voting representative at the annual Florida League of Cities annual conference
Appointed the city's representative to the North Pinellas Cultural Alliance
Attended a Florida League of Cities symposium on medical marijuana
Spoke on city's behalf at dedication of WEDU Reading Corner at Safety Harbor Public Library
Volunteered for Forward Pinellas' walkability study
Interviewed on Bay News 9 about my frustration with CSX's lack of response to residents wanting dangerous railroads fixed
Attended a Florida League of Cities' webinar on affordable housing
Attended a Forward Pinellas seminar on "missing middle" housing
Read to children during the Safety Harbor Public Library's summer Storytime
Did a ride-along with a Community Policing Officer
Did a ride-along with a city sanitation truck
Appeared on Fox 13 to help promote the Folk 'N Fruit Festival and Centennial Games
Participated in Centennial Games and helped tear down for Folk 'N Fruit Festival
Attended Safety Harbor Historical Society centennial marker unveiling
Attended Safety Harbor Citizens Advisory Board Appreciation celebration
Attended Bill Cropsey Safety Harbor Citizens Academy graduation
Dressed as a carrot to visit city employees and pass out Halloween candy to kids on Main Street
Dressed as an elf to help promote Holiday in the Harbor
Submitted a letter encouraging positivity to the 2067 city time capsule
Hurricane Irma preparation and aftermath
Spent two days helping residents fill sandbags
Visited city's Emergency Operations Center before and after the storm
Walked neighborhoods the morning after the storm to check on residents
Organized a post-storm cleanup of North City Park
Hand-wrote 107 thank-you notes to our city's firefighters, Public Works employees and Parks & Recreation employees who assisted with storm cleanup
Community events
Encouraged citizens to share ideas on what they will do to help race relations, an initiative that was featured on WTSP and in Safety Harbor Connect and the Tampa Bay Times
Participated in Team Up to Clean Up event to clean up 9th Avenue along railroad tracks
Participated in Safety Harbor Holiday Bike Roll
Attended Safety Harbor Inspired Planners' Bike Scavenger Hunt
Attended VFW Post's Memorial Day ceremony
Attended Habitat for Humanity dedication for the Neris family's new home
Attended Habitat for Humanity dedication for the Perry family's new home
Attended NextDoor.Com community potluck for Safety Harbor residents
Attended Walk Kids to School Day
Attended Safety Harbor's National Coffee with a Cop event
Attended Kiwanis Arts and Crafts Show
Dressed as a soda jerk to help serve ice cream at Safety Harbor's Market on Main
Dressed as a ball for Noon Year's Eve celebration for kids at Safety Harbor's Market on Main
Marched in Safety Harbor Fourth of July Parade
Marched in Safety Harbor Holiday Parade
Marched in Briar Creek St. Patrick's Day Parade
Attended several Third Fridays
Charitable endeavors
Created Melons for Moolah watermelon-eating contest fundraiser, which raised $8,000 for nine local non-profit organizations
Diamond sponsor of SunSplash fundraiser for Whispering Souls African-American Cemetery
Table sponsor of Safety Harbor Chamber of Commerce's Taste of Safety Harbor
Volunteered for Bands and Beer on the Bay fundraiser for Mattie Williams Neighborhood Family Center and Kiwanis
Donated to and attended Mayors Breakfast fundraiser for Mattie Williams Neighborhood Family Center
Donated to and attended Denim, Dice and Disco fundraiser for Safety Harbor Public Library
Donated to and attended Frankenstein Frenzy Masquerade Ball fundraiser for Rotary Club
Donated to and attended Pinellas Opportunity Council fundraiser
Donated to fundraiser for Chi-Chi Rodriguez Foundation
Sponsored a child for the Safety Harbor Super Summer Camp
Dressed as a hot dog for the Safety Harbor Centennial Pub Crawl to benefit Embracing Life Through Love and The Harbor Dish
Chamber events
Purchased brick to support the Chamber
Dressed in lederhosen to volunteer for the Chamber's Oktoberfest
Attended ribbon-cutting for Brookdale Assisted Living Facility
Attended ribbon-cutting for Pizza Cones
Attended ribbon-cutting for Seersucker Sassy Boutique
Attended ribbon-cutting for Key West on Main
Attended ribbon-cutting for doTerra Essential Oils
Attended ribbon-cutting for Acqua Alta
Attended ribbon-cutting for Marketing Posse
Attended Chamber's Volunteer Appreciation Reception
Attended several Chamber lunches and other events